Polyester Felt 1/4m
== Poly Felt 1/4m hanya guna Poslaju sahaja ==
Pos biasa ditolak oleh pihak Pos Malaysia kerana saiz paket yang melebih saiz yang dibenarkan
100% Polyester Felt
1.2-1.3mm thick
1/4m : 46x50cm : lebih kurang saiz kad manila
32 colours available
Please choose colour and quantity
Warna BLACK, WHITE, BABY BLUE boleh didapati kat --> http://asma-felt-box.com/products/polyester-felt-lembut-1-4m
=======================================================
ASMA-FELT-BOX supply quality polyester felt cloth (hard felt) with variety colours for craft maker in Malaysia. We have 32 colours to be choose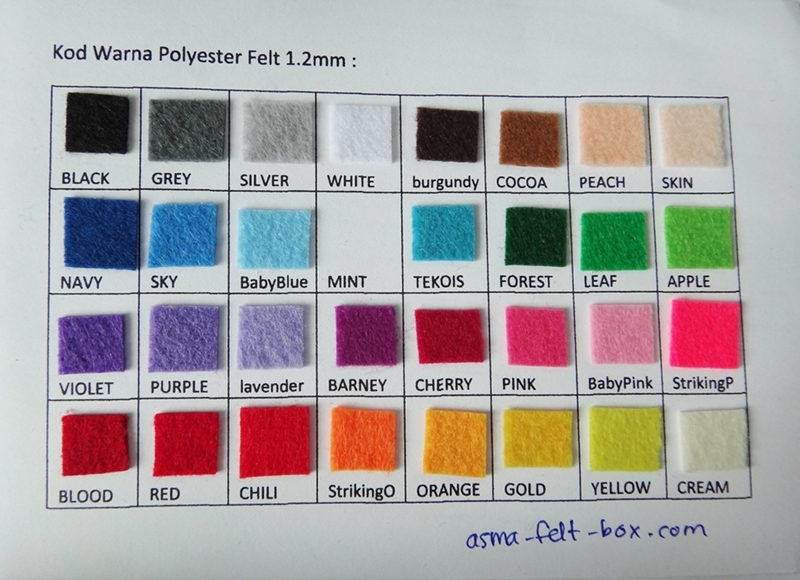 POLYESTER FELT FEATURES
This felt is made of 100% polyester
The thickness is between 1.2-1.3mm
The texture is hard and easy to cut
Suitable for decoration, wordings, and small design.
Also can be use for making bag, purse, phone pouch/casing, pencil case etc.
Also use to make keychain and pillow with harder texture.
Free shipping for purchase more than RM100 (RM120 for Sabah and Sarawak)
---